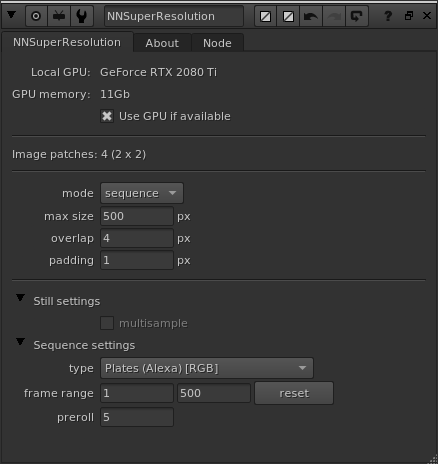 It's been a while since we did any updates here. That is not because nothing has happened, rather the opposite – we've been very busy working on a new and improved version of NNSuperResolution called v2.5.0! It's just been released and is available now for downloading. The major new features are as follows:
New and improved upscale solution for plates, featuring sharper and more detailed results. This has been made possible by fully re-training the neural networks using a lot more, and higher quality, filmed plates shot using the Arri Alexa motion picture camera.
A first release of an upscale solution for CG, i.e for rendered computer graphics. This means you can now upscale renders including the alpha channel (and also custom lightgroups/AOVs).
Nuke Indie support
We are very happy to finally have this release in the wild, and would like to hear what you think about it! Download and take it for a spin. If you need a trial license, don't hesitate to request one for free on the request trial license page.
Cheers,
David
Major update of NNSuperResolution!