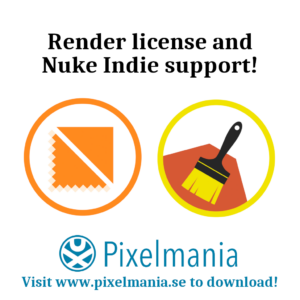 We are pleased to announce that we have released both NNSuperResolution (v3.3.0) and NNCleanup (v1.3.0) with dedicated render license support. This means more flexibility for you to choose how to license our plugins. You can for example buy a couple of GUI licenses for your artists to use interactively when working, and then have a bunch of render licenses for the farm to batch process with (without them interfering with the GUI licenses). If you are a bit technically creative, you can also make your farm use the GUI licenses durings off hours to up the license count for overnight batch rendering on the farm. Adding render license support was in response to customers asking for this functionality, and we do 100% agree it's a good thing! If you already got a node locked license, or if you're a studio with a site license, there is no need to worry. You don't have to change anything, and things will keep working as it is currently (i.e. the nodes will continue rendering using the GUI licenses in those cases).
NNFlowVector will also get the addition of render license support in the next point release, which will probably be available in a few weeks from now.
The render licenses are available for purchase in the Shop already, and are priced at $59 USD/year.
NNCleanup (v1.3.0) has also got support for Nuke Indie with this release!
NNFlowVector will follow along with Nuke Indie support as well in the next point release.
Since our last blog post in February, we have also released NNFlowVector v2.0 as a sharp public release (i.e. no beta version anymore). This means that you can now go ahead and download and install it, and use the matte input support on both Linux and Windows.
Until next time!
Cheers, David
Render license support, Nuke Indie support and NNFlowVector 2.0