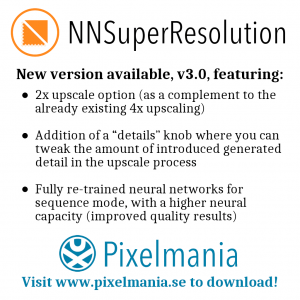 After several months of training neural networks, we are pleased to finally announce v3.0.0 of NNSuperResolution. The main updates are:
2x upscale option (as a complement to the already existing 4x upscaling).
Addition of a "details" knob where you can tweak the amount of introduced generated detail in the upscale process.
Fully re-trained neural networks for sequence mode, with a higher neural capacity (improved quality results).
We have also fixed so that NNSuperResolution is compatible with upscaling anamorphic formats.
All the different Nuke and platform variants are available now from the Downloads page. If you want to test it out without any added watermark noise, please request a free trial license.
Cheers, David
New major release of NNSuperResolution